How to apply for a Gap Year Grant
Please email us the following:
A personal signed letter with details of your project, including your date of departure.

In your letter explain why this project interests you, and what you hope to get out of it. Say also how you propose to raise the balance of the travel costs, and what fundraising you have achieved to date. Send your letter as a PDF attached to your email.
A recent informative CV. Try to give us a good sense of who you are and what you have achieved so far.
Email to: Correspondent@roughleytrust.org.uk
The deadline for Applications is 1 October. If the deadline has passed it may be that there are still vacancies. Email Correspondent@roughleytrust.org.uk to enquire.
Gap year grant reports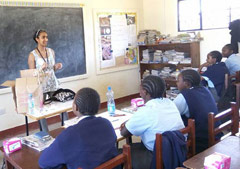 The Trust awarded a Gap year grant to Zeinab Akhter to help with the costs of a Medicine and Healthcare project in Kenya with Projects Abroad.