Eligibility: Grants to organisations
What we support
Trustees welcome grant applications from Birmingham registered local charities working in Birmingham with an annual turnover of less than £1M in any of the areas listed opposite.
Applications are accepted from 1 August to 1 October each year. The deadline for applications is 1 October each year. The Grant Meeting is in November.
Trustees do not make grants to national charities, even if the national charity has a project or branch in Birmingham, unless the branch itself has its own Charity No, and its own accounts showing on the Charity Commission website
Trustees tend to give priority to applications from smaller or medium size organisations.
Eligible areas
Applications from local Birmingham charities working inside the City boundary will be accepted. In some cases Trustees will accept applications from charities working near to the Birmingham boundary if the majority of their clients are in Birmingham.
This means that applications for projects in Sandwell, Solihull, Wolverhampton or Walsall for example will not normally be accepted.
Trustees will not accept applications from:
Birmingham based medical charities
Church fabric appeals
Community interest companies
Social enterprises.
Church based projects which are essentially about the teaching of religion.
Animal charities.
>> See Gap Year Grant eligibility.

What we support:
Area-based community work such as church-based community projects
Work with special needs including the following:
- Childhood and youth
- Old age
- Death and bereavement
- Homelessness
- Disability
- Prison
- Addiction
- Victim support
- Other special needs
Health and well being, including syndrome support groups, counselling, bereavement support, complementary health and mental health initiatives
Education
Arts and leisure, including theatre in education groups, museums and arts centres
Heritage
Environment: environmental improvement projects, and green projects generally are particularly welcome.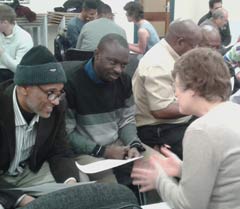 Restore. Equipping Refugees for Work.