Leonie Jurkschat's Gap Year Grant report 2017
The Trust awarded a Gap Year Grant to Leonie Jurkschat. Leonie taught English in Nepal with Project Trust. This is her report on her return.


Report to the Roughley Trust
In August 2016 I stepped onto the plane headed towards the most interesting, weird and funny year-and-a-bit I've lived.
Plunged into a new world
I came out to Nepal with the help of Project Trust, who placed me as a volunteer English teacher in Rukumkot, Rukum, a remote but surprisingly developed village in the Nepali pahad (hills - mountains to us UK dwellers). Here, together with my partner Eleanor, I was plunged into a new world: new language, new family, new food, new habits and customs, new job and new expectations.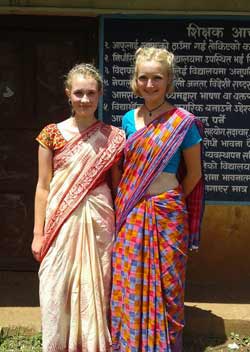 I won't lie - at first it was pretty hard, and the idea that we would enjoy or even love this place was hard to imagine. We didn't understand all but the simplest of conversations, were frustrated at our lack of independence, compared to what we were used to at home, and daunted by the task of teaching huge classes of lovely but not exactly motivated students. But slowly, surely, we got taken in and adopted by this beautiful country and soon realised that far from bringing "much-needed help" it was us that had so much to learn from these incredible people.
Learning Nepali
The first (and last, and constant) step is language. Having a bilingual background, I realise that language and culture are very much intertwined, and learning Nepali shows me a much bigger difference than between the fairly similar, European, languages that I know. Obviously the most important reason to learn is to be able to communicate people on a day to day basis, but their language also gives you many clues about their culture's values and attitudes. For example, there is a much larger vocabulary for relations (like maiju, your mother's brother's wife) that are evidence of the strong social structure and four levels of pronouns, from the very familiar to the very polite, which make the relationships between people clear.
It is a logical and intuitive language, and with a relatively small set of rules and words you can express most everyday interactions. However, it has been hard for us to get beyond that basic level of "getting by". Sadly, there's still so much we don't understand, leaving us knowing the rough topic of conversation without any idea of the actual content or opinions. It seems that there's a limit to how much you can pick up by just talking to people and "properly" learning Nepali so we can feel fluent is one of the biggest motivations to spend more of our life here!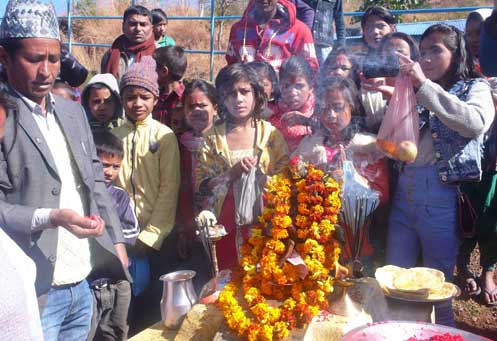 "Have you eaten rice?"
Food, besides water, shelter and human company, is the most important thing in life. Nepal taught me to fully realise this and now the daily question "Have you eaten rice?" (rice, being the only meal that can be taken seriously, is synonymous with food in Nepal) no longer seems strange or trivial. It's of genuine interest - and if you haven't eaten, I'll make you something. The joy of a fresh vegetable is immense, the satisfaction of cooking a good meal was often the highlight of our day, and you know where all the food you are eating has come from - usually from the garden by the house. And you always share what you have with everyone.
Family is everyone
We came to love and appreciate the strength of family in Nepal. You look after your family, and your family looks after you. This doesn't just include your relatives and neighbours - everyone is your brother or sister, your mother or your son.
Strangers will always help you and you can completely rely on the network of people. If something goes wrong on a journey, or you need some information, someone will call someone who knows someone who can sort you out. In a country like this it is the most simple thing for a phone left behind in a hotel to be delivered to you via bus drivers or acquaintances or whoever happens to be going in the right direction
I've never not felt safe in Nepal, even in the middle of a night in an unknown city, because I know I can trust the people. Also, of course, young children are everyone's responsibility, and with age comes respect; it feels so natural yet often is not recognised back home.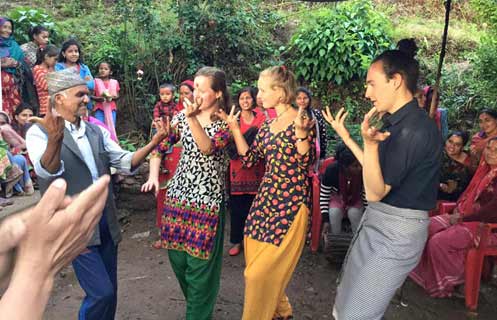 Nepal felt like home
So these are the areas in which I feel I've learnt and developed the most, though there are many other things such as flexibility with time and plans, not worrying about things going wrong, keeping myself and my environment clean, resourcefulness, and of course: dancing! I have seen beautiful places and faces, been in ridiculous and funny situations, laid foundations for some lifelong friendships and become part of a family, both of the village and the whole country.
Nepal has well and truly become home.
Best wishes
Leonie