Solomon Smith's Gap Year Grant report 2018
The Trust awarded a Gap Year Grant to Solomon Smith. Solomon taught English in Honduras with Project Trust. This is his report on his return.


Report to the Roughley Trust
Punta Gorda
Punta Gorda is a village on Roatan island where they speak mainly Spanish. It's littered with collages of colourful wooden shacks topped with corrugated iron roofs, barely standing up amidst more affluent brick houses with elaborate fences and turrets. Wooden piers jut out onto the blue and green Caribbean sea, sometimes housing palapas (small sheltered structures made of wood and palm leaves). Picture the peach sunset on the wide expanse of ocean while children play football in the street and residents sit outside playing dominoes. Picture seaside bars, live music, drumming, dancing and singing. That is Punta Gorda. It is a unique and diverse part of the world.
The Garifuna, a mix of West African and Arawak people who landed on Roatan 221 years ago, make up the majority of the population in Punta Gorda. Although they all speak Spanish, the Garifuna have a language that is mainly used by the older members of the community. As well as the Garifuna there are the "Spanish" Latin American people of Honduras who have within themselves a mix of ethnicities. There is also a community of "English" people in Punta Gorda, and there are other English communities on the Island. The "English" speak a creole English and are of a black ethnicity. But their roots are more likely more immediately Caribbean as opposed to being directly from Africa, like the Garifuna.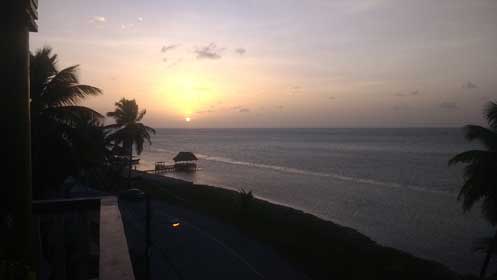 Teaching and the School
The school in Punta Gorda, C.E.B José Santos Guardiola, initially seemed an impossible challenge. The children wouldn't stop shouting amongst themselves to listen to the teacher, one of the students was threatening another with a kitchen knife and some of them were drinking a kind of purple substance which we later found was a home-made wine. I don't think I've ever felt so unprepared for something in my life. It took a while but I was soon settled in and getting to know the students and teaching became easier.
Some of the students made an immediate impression on me. Take Willian, an eight year old who, when told to mop up some spilt milk, splashed almost a litre of bleach onto the spillage, before going at it wildly with a mop, splashing milk and bleach every which way. He probably created more mess than he cleaned, but did it all with honest intentions and a smile on his face. Or Carlos, who insisted we called him "OSTER" after the brand of microwave in his house, would often stand up during English class and burst into song and dance. And Mayelle a fourteen year old with a lot of attitude who stormed into the class once, taking my chair saying "Big lady gotta sit here, teacher". It took me a while to get her to move. The students were so funny, did such ridiculous things and made the school day that much more exciting.
Kinder-garden was challenging and demanding work. To hold the attention of a group of three to five year olds requires your full commitment. We taught them using songs, chants and games that were sometimes quite difficult to organise. Especially when there were three children wrapped around my legs, one child stabbing me with a pencil and all the other children waiting in turn to either wrap themselves around my legs or stab me with their pencil. But when teaching kindergarten did work, it was great and energetic.
There wasn't "an average" school day. Some days we would be told that classes weren't on because there was to be a large event held at the school and the whole of the municipality were invited. For the events we were often minding the gate or putting out plastic chairs. Classes might have to be rearranged because there was a staff meeting. Or simply Jamie and I were not to teach classes but to paint the walls in the school a strange green colour. The list of random events that changed the timetable was initially quite alarming
Often when we weren't in classes we helped our headmistress in her office with various tasks. Sometimes it was "paint the walls", or "organise these 1000 birth certificates in alphabetical order" or even "clean the trophies". What ever it was, we tended to do it, even if it did get a little annoying. Being so eager to do jobs for her allowed us to bargain long weekends off school so we could go down to Tela to see some of the other Honduras volunteers - occasionally anyway.
Life in Punta Gorda
Everything was very chilled and relaxed on Roatan and in the Garifuna village of Punta Gorda people were rarely in a hurry. Sometimes Jamie and I would catch a bus to French Harbour to do our shopping in Eldon's supermarket. We would leave Punta Gorda in the morning, saying hello to people lying in hammocks outside their houses. When we got back three or four hours later the people in the hammocks were still there and probably hadn't moved at all.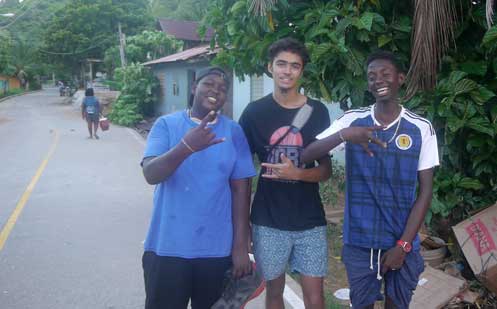 When we weren't in school we sometimes played football with the local Punta Gorda guys which was a good way to get to know them and a lot of fun. I remember blistering my feet badly after playing on the concrete, barefoot This involved football in the street as well as on a little concrete football pitch. We also taught English to some members of the community who didn't attend the school and that allowed us to get to know more of the community.
Going to Garifuna celebrations was always exciting. The drumming, the dancing and singing was always energetic and immersive. Although I never mastered the dances, as a music lover myself, I managed to play guitar alongside Rolando and accompany his guitar and vocals in some of his Garifuna songs. Merilu, wife to Rolando, joined in and sung aswell.
Food
Merilu is one of the most amazing women I have ever met. She has cooked for Project Trust volunteers for over twenty years, is a brilliant cook and a lovely human being. She cooked for us twice a day, lunch and dinner, at midday and seven in the evening.
I looked forward to every meal. Rice and beans made consistent appearances but I loved them. They were sometimes accompanied by fried fish, fried chicken, plaintain, green banana, boiled vegetables, green salad, chorizo, stewed pork, and even, every now and then, cow's heart. The Honduran baleadas always went down a treat, a tortilla with refried beans, strong white cheese and egg. If we were lucky she made us some traditional Garifuna food like Machuca and Tapado, involving a lot of coconut and fish. The flavours were unreal. Merilu was a magician.
Sense of community
Coming from Handsworth, Birmingham, the close knit and familiar nature of the Punta Gorda was a significant contrast. It was a very warming experience, walking around in the first couple of weeks with everyone in the village knowing exactly who we were. We would hear "Los teachers" and "Hola teacher" from people we didn't even know. Everyone was friendly and would always greet us back after a "buenos dias" or "buenas tardes".
There was a strong sense of community, especially in our little "barrio" (neighbourhood) called "Barrio Lagarto". A sense of community that by the end of our year I felt part of. Whether it was when I was playing football in the street after Merilu's dinner, constantly losing at numerous games of dominoes that were eating well into the night or simply just sitting around and chatting to some of the Barrio Lagarto residents I felt at home, welcomed and part of something.