Laura Webb's Gap Year Grant report 2018
The Trust awarded a Gap Year Grant to Laura Webb. Laura worked with Project Trust in the rural mountains of North West Swaziland. This is her report on her return.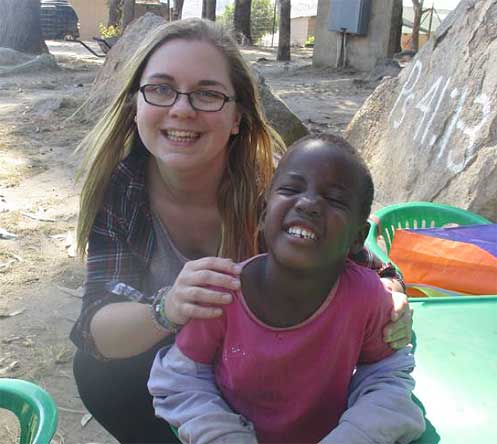 Laura and her sponsor child, April, at the funday.
Laura Webb's report
Thank you for your support towards my year away in Swaziland with Project Trust, I am most grateful.
The 12 months I spent abroad were challenging and pushed me far outside my comfort zone and yet I had the best year of my life and I miss it already. For my year overseas I lived and worked at El Shaddai, a children's home in the rural mountains of North West Swaziland. My day involved teaching science and maths to grades 1-3, grade 6 and grade 9 and then after school I would help out with homework and additional support. At weekends I was not strictly working and so had more of a social care role with the children. I used this time to get to know them better, play games and just generally provide the support and love than orphaned and neglected children lack.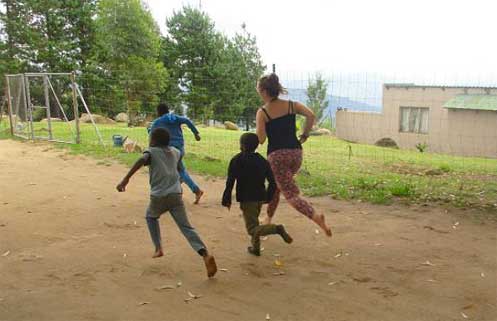 Running races with the kids was a favourite game! Having trained in Athletics Laura enjoyed the opportunity of helping them improve
During the year I also helped the children to write sponsor letters several times. In July some of the sponsors came from the USA and so I wrote and then rehearsed with the children some plays for them to perform; the performance night was a huge success. My partners and I also fundraised for, and organised trips for all the children. This was a huge highlight of the year as it gave the children the opportunity to get away from the Home for the first time in months as well as swim and enjoy some food at a restaurant. All our hard work in preparing for this trip really paid off when we saw how happy the children were by such simple things, which we completely take for granted. The week before we left we also arranged a 'FunDay' involving a braai (BBQ), a bouncy castle, lots of games, and more food than imaginable! A lot of the kids wrote us letters thanking us for this day which made all the hassle of getting a bouncy castle up the mountain so worth it!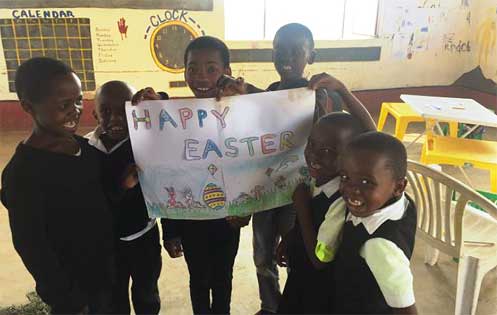 Last day of term before Easter with Grades 1-3. To try and improve their teamwork and sharing they made a big poster as a class.
One of the biggest challenges during the year was having to teach Grade 1-3 (age 6-10) all in one class. Until Christmas this class was Grade 1-Grade 5 (age 7-16), although thankfully after Christmas it changed. It was still incredibly difficult to teach children who were at such different levels, particularly as some of them couldn't read. However, an advantage was that the class was very small so I got to know them really well and built up such a great relationship with them. By the end of the year I became very proud of the way I was able to involve all members of the class and vary activities for their abilities. In maths it was particularly evident the progress which some of the children had made, for instance one girl who didn't know her numbers to 20 at the start but by the end knew her 10x table, her numbers to 1000 and all the basic shapes.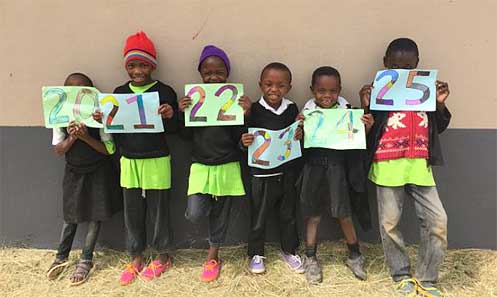 The Grade 1s learning their numbers above 20 back in January. It was such small progress at first but by Easter they had improved so much it was incredible.
We also had to write exams at Christmas and in July, which was an odd experience to say the least given that I only finished school myself last summer. My students all did really well though and seeing their hard work pay off made me incredibly proud of their achievements. The lack of resources also proved challenging at times but once again by the end of year I was able to make do with the limited things available; toilet rolls minions, egg box caterpillars and ladybugs, papier-mâché planets and rockets, toilet roll aliens and card board photoframes were amongst my favourite creations!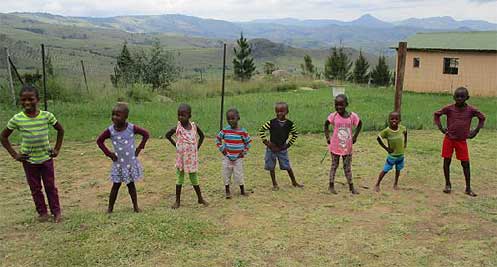 Playing outside the baby house in February 2018
Not only did I have a huge positive impact on the children I was volunteering with, but I also learnt more than I imagined was possible, during my year overseas. The culture in Swaziland was fascinating and I thoroughly embraced every opportunity to learn new aspects of it. I made a point of taking time at the end of my Grades 1-3 class to let them teach me SiSwati songs rather than just always teaching them English ones. The boys at the Children's Home also loved teaching me "In gwara gwara" which is a really popular dance. I downloaded and learnt some SiSwati music which we would then all dance to. Their favourites were 'Gobisiwolo' by Bhizer and 'Love Potion' by Mafikizolo, although my personal favourite is 'Suited' by Shekhinah!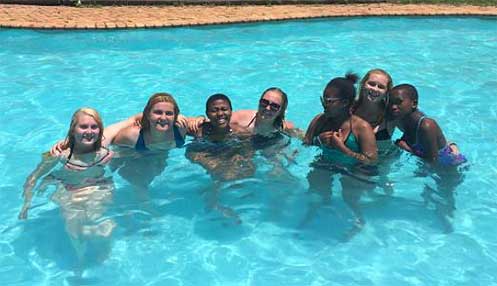 I also learnt a lot about the issues surrounding Swaziland and South Africa mainly by just talking to people of all different races, ages and backgrounds wherever we went. I'm going on to study International Development at University in September and hope to eventually work for an NGO or the UN, and so I found this very interesting. At the start of the year, my partners and I had many issues involving our host and accepting the corruption that invariably exists across Africa. This was very challenging to deal with but by the end of the year we had accepted a mature approach and learnt to deal with it. I think that this experience has prepared me for the future in a way that I couldn't have expected. It has also prepared me for a future of working with NGOs and developing countries where corruption is often widespread.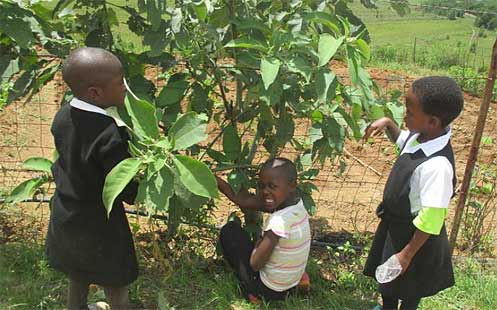 Picking berries on the walk to class
During the year I formed such a relationship with all 50 of the children at El Shaddai and so my partners and I all decided that with our families we would sponsor a child. I chose to sponsor April who I got on really well with and spent so much time playing with. She's currently 5 and so I hope to be able to sponsor her for the next 15 years or so to see her through education.