Kaylen Airey's Gap Year Grant report 2018
The Trust awarded a Gap Year Grant to Kaylen Airey. Kaylen worked with Project Trust in the rural village of Kep, Cambodia. This is her report on her return.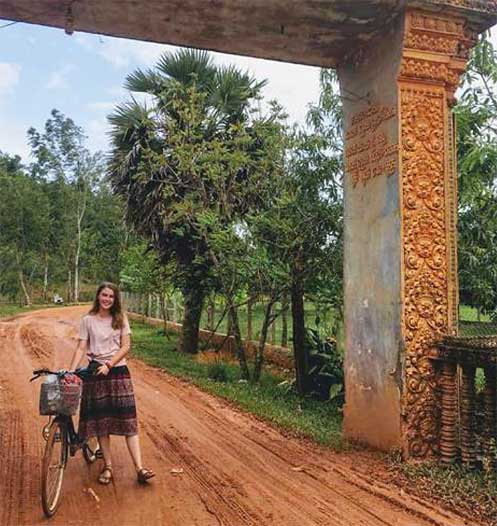 Kaylen Airey's report
On January 4th, 2018, I embarked on an 8 month journey with Project Trust to a rural village in Kep, Cambodia, that changed my life and will continue to do so in years to come.
A typical day
In Cambodia, the school day is split in two. Half of the children go to Government school to learn Khmer, Mathematics and basic English in the morning between 7am and 11am and the other half between 1pm and 5pm. Because of this, I had morning and afternoon classes.
I would wake up, plan my lesson and teach for an hour in the morning between 9am and 10am. My morning class of 20 students varied between the ages of 7 and 12 years old, making it challenging to accommodate to their different learning speeds. However, after a lot of trial and error, I learnt how to challenge my older students by setting harder tasks, while working individually with my younger students to help them catch up.
Once the lesson finished, I would go with them in the school tuk tuk along the red dusty road of our village and wave them off one by one as they disappeared behind the palm trees and into the rice fields.
Once returning to school, I would cycle with my Project Trust partner, Katie, for about half an hour through our remote village and along a quiet main road to our nearest market for a noodle soup breakfast. Food is an important part of Cambodian culture, especially breakfast! Breakfast is rarely eaten at home.
When cycling along any road in the morning, no matter how rural, you will see the streets lined with bright red plastic tables and chairs placed outside the homes of locals, packed to the brim with families getting ready for a hard day's work. After slurping down noodles or munching on braised pork and rice, we would cycle back to our school, plan and prepare our lessons and clean our classrooms.
Despite our lessons starting at 1pm, students that lived close to school would arrive at 11am to play football, read and practice their English with us. At 1pm, all the students line up, we would take a register and then walk with our students to class.
My afternoon class consisted of 25 bubbly, enthusiastic and cheeky students ages 6 to 9 years old. This made it easier to manage their learning speeds but presented other challenges such as keeping the same 25 children focussed for several hours when we couldn't communicate using words. I overcame this challenge by building a relationship with every individual student in my class and tailoring my teaching methods to suit them. I also found it helpful to learn basic classroom phrases in Khmer, such as 'sit down' and 'listen' to help control them.
The day would end with the whole school lining up and singing the anthem and then a whirlwind of hugs, high-fives and smiling faces.
Biggest achievements
International Earth Day
One of my biggest achievements was the International Earth Day that Katie and I organised to tackle the problem of plastic pollution which is a major issue in Cambodia.
Due to the lack of education on recycling and the effects of plastic on the environment, the average Cambodian person uses up to 2700 plastic bags per person per year. In Germany, this number is 72. To address this problem, we teamed up with Marine Conservation Cambodia to translate and explain the lasting effects of using plastic, and ways in which we can help our environment by finding alternatives.